---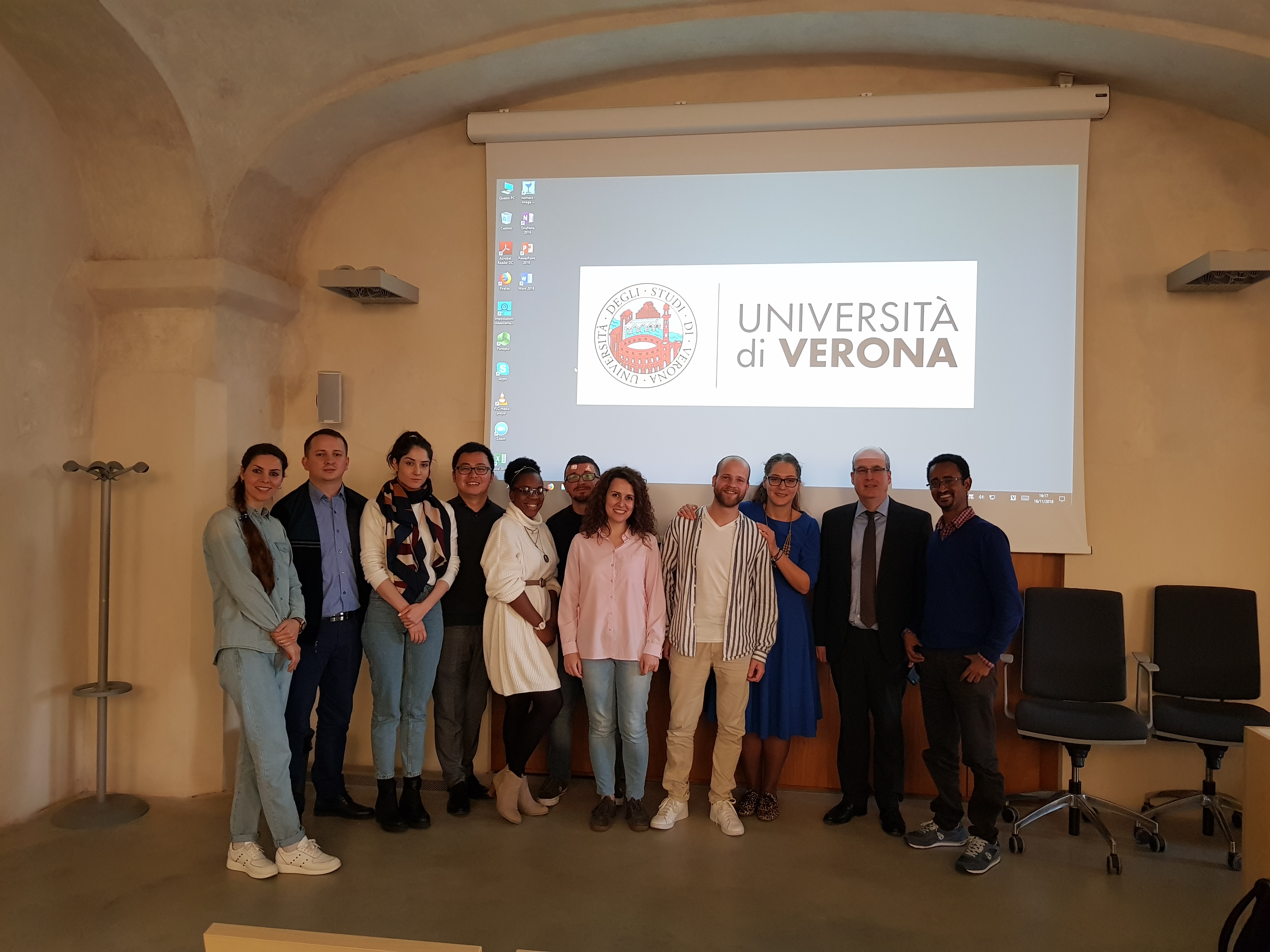 News
Last Friday 16th of November we celebrated the first year of the INVITE project with a conference on "The innovative doctoral programmes: features and news". PhD students and faculty, administrative staff of the PhD units and institutional representatives have participated to this event. The diversity of audience demonstrates how the innovative doctoral training is crucial for the young people, for the academic institutions, but also for the business operators and the policy makers.
Indeed, the conference was opened by the local institutions: Nicola Sartor, rector of the University of Verona; Santo Romano, director of Human Capital, Culture and Community Planning Area, Region of Veneto; Bruno Giordano, Vice-President of Supply Chains and Start up, Confindustria Verona; and Francesca Toffali, Assessor for the Business activities of the Town Council of Verona, on behalf of the Major Federico Sboarina.
Santo Romano has stressed how the Regione del Veneto is committed to enhancing of the research system with specific policies and grants focused on the human resources and the companies in Veneto. The participation in the INVITE project as co-funder and member of Steering Committee contributes  to this approach. Bruno Giordano has stressed how the productive sectors in our area is actively involved in a "trialogue"  the universities and the institutions.
Vanda Lanzafame – director of the Doctorate Unit at the Italian Ministry for Education, University and Research – has illustrated how innovative doctorate are regulated in the Italian framework . As concerns the academic year 2018-2019, 802 PhD courses (out of 967 recognised PhD courses) are innovative, i.e. they are either international or inter-sectoral or inter-disciplinary. This rate has increased of 335 compared to the previous academic year: the Italian Ministry is putting a lot of efforts to improve the Italian doctoral system according to the European and international standards.
Mario Pezzotti – INVITE project coordinator and vice-rector of the University of Verona – has briefly presented the INVITE project: how it has been designed and managed up to now. He has also welcome the INVITE PhD candidates attending the conference. He has also commemorated Lara Lupinc, a member of the INVITE Steering Committee who passed away last summer. For this reason the Steering Committee together with the Region del Veneto have decided to dedicate her memory  the INVITE Fellowship in European and International Legal Sciences.
At the end Klaus Haupt – Head of Unit of the Research Executive Agency – European Commission – has presented the Marie Skłodowska-Curie Actions and in particular some interesting figures about the COFUND Doctoral programmes. The Marie Skłodowska-Curie Actions should continue in the next Research and Innovation Framework Programme called Horizon Europe.
All presentations of the INVITE Conference (Verona, 16/11/2018) are available here.