---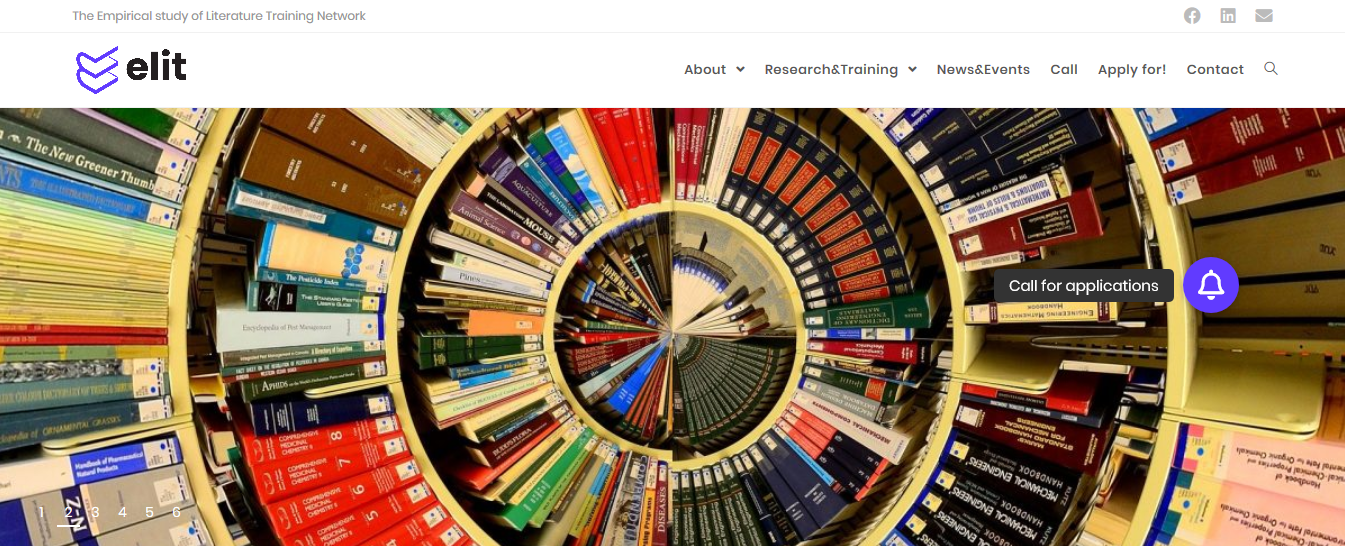 News
The EU project ELIT, funded by the Horizon 2020 Programme, has launched a call for applications for 10 PhD positions on empirical study. The project is coordinated by prof. Massimo Salgaro of the University of Verona
The call for applications is published on the ELIT website and applications will be accepted until 15 June 2020 at 14:00 (Central Europe Time).
What's ELIT
ELIT (Empirical study of Literature Training Network) is an Innovative Training Programme funded by the European Union's Horizon 2020 Programme among the Marie Skłodowska-Curie Actions.
The network consists of ten European Universities that are at the forefront of the empirical study of reading literature. In addition, the network includes thirteen non-academic partners from domains such as literacy (i.e., literacy associations, reading foundations, educational policymakers), bibliotherapy (i.e., reading groups, libraries), production (i.e., publishing houses), and research (i.e., international research networks).
The goal of the ELIT is to arrive at a profound understanding of the underlying processes and societal effects of reading. This requires an integration and close cooperation between two research cultures that are commonly separated, namely the social sciences and the humanities.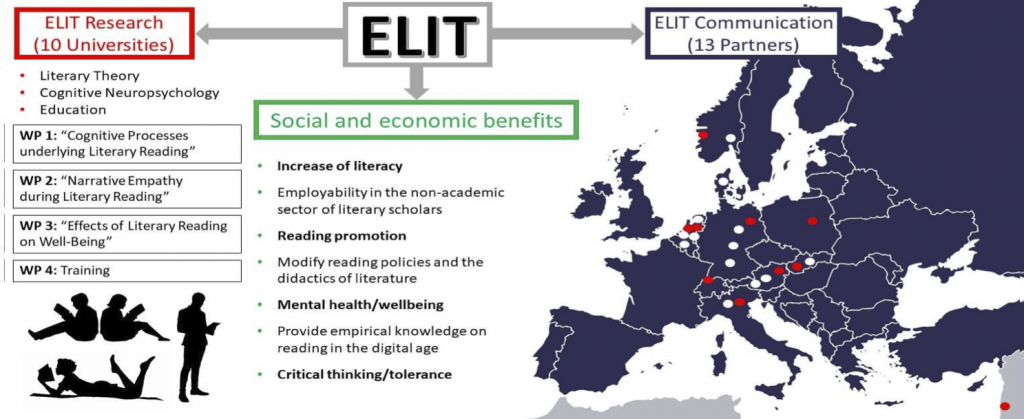 ELIT aims to train a new generation of creative, innovative and interdisciplinary early-stage researchers (i.e., PhD-candidates) in the empirical study of literature.
For this purpose, a European Joint Doctorate has been established: each early-stage researcher will be enrolled in a doctoral programme involving two universities and leading to a joint or double doctoral title.
Who can apply
Applicants must meet the following requirements:
Education Level: They must have a master's degree or equivalent degree that grants access to PhD programmes
Research Experiences: At the time of recruitment, they must not have already a doctoral degree and they must have less than 4 years (full-time equivalent) of experience in research.
International mobility: They are required to move from one country to another one when taking up the appointment. More precisely, researchers must not have resided or carried out their main activity (work, studies, etc.) in the country of their host organisation for more than 12 months in the 3 years immediately prior to their recruitment.
Specific requirement and desiderata apply for each position.
How to apply
Applications must be submitted through the on-line form on the ELIT website. Each applicant can apply for a maximum of three specific positions and list their order of preference. For each position a separate application must be submitted.
The following documents must be provided:
Application form
Personal statement, detailing the applicant's motivations and goals within the program
Detailed CV (max 2 pages) with emphasis on academic achievements
Research statement (max 3 pages)
Copy of Bachelor's and Master's degree certificate and transcript of records
Diploma Supplement or List of courses, grade/rank, teachers (optional)
A reference letter by the MA supervisor and one other academic (or professionally relevant) reference
Copy of the ID document.
All documents must be submitted in English.
The deadline is on 15 June 2020 at 14:00 (Central Europe Time).
The position at the University of Verona
The PhD candidate recruited by the University of Verona will work on empathy and morality.
The goal of this individual project is to establish the relationships between literary empathy and sense of morality. On a theoretical level we would also like to differentiate literary empathy from sympathy.
With this purpose in mind, the early-stage researcher will select a corpus of literary texts that enhance empathy or sympathy. Empirical research will focus on measuring empathy, sympathy, transportation, aesthetic evaluation, and moral evaluation after the reading of literary stories with either a morally bad protagonist, a morally good protagonist or a morally ambiguous protagonist. Ultimately, we would like to investigate the effects of reading morally diverse protagonists on various forms of engagement, moral judgments, and empathy skills.
The position is open for applicants with different backgrounds, such as Literary studies, Psychology, and Digital Humanities. Candidates should show some interest in interdisciplinary studies (e.g. Cognitive Poetics) or Empirical Aesthetics.
This doctoral programme will be supervised by prof. Massimo Salgaro at the University of Verona and co-supervised by prof. Elly Konijn from the VU Amsterdam.
It includes 12 months spent at the VU Amsterdam (Netherlands) to work on differentiation between empathy with morally good and morally bad fictional figures. An additional secondment of two months at Stiftung Lesen (Germany) is planned, under the mentorship of Simone C. Ehming.
At the end of the programme, the successful PhD candidate will be awarded a joint or double PhD title with the University of Verona and VU Amsterdam.